Introducing high impact social display ads
Over the last few years we've seen a significant shift in purchasing behaviour as the public continues to back e-commerce (up 45% year-on-year in the US) over traditional shopping methods. As a result, the digital advertising voice has never had so much power, and high impact marketing has helped brands ensure their advertising campaigns cut through the (often) deafening noise created by traditional banner and display ads.
High impact advertising puts creativity front and centre of any campaign on any device. Yes, the technology is cutting edge but it acts as an enabler, allowing for engaging creative treatments that our research has shown boosts performance over traditional ad models by ten times. A study produced by the Nielsen Institute suggests an advert's creative now contributes a massive 56% of generated sales. In the GDPR age - and with the demise of the cookie on the horizon - creativity rather than data is once again setting the tone and producing the goods. At Adnami, we believe this is a very good thing.
High impact ads come in various formats, including wallpapers, large scrollers and skins, and it is their integral interactivity and creativity that has made them a success with audiences. We're very pleased to announce the launch of a new, innovative format to join our roster of products: social display.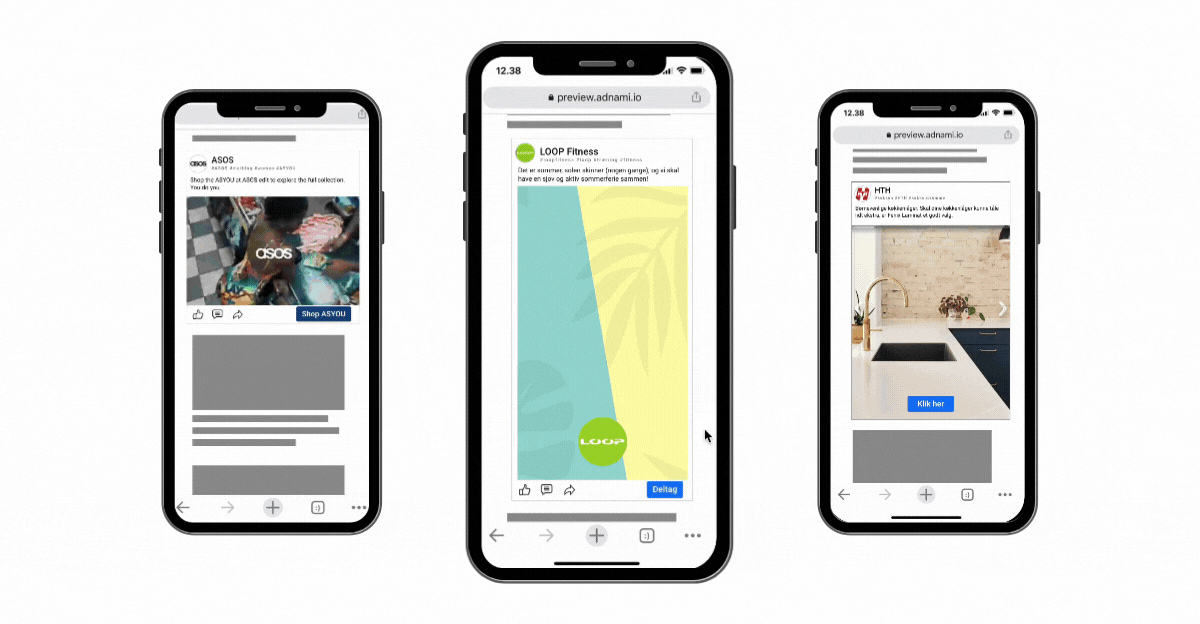 What is social display ads?
At its core, social display advertising is a cross-channel medium that allows you to combine the highly interactive, engaging nature of social media creative with the more traditional discipline of direct display and programmatic advertising.
Visually, social display ads look like a faithful recreation of a social media post, and can be produced to reflect all the major players, including Facebook, Instagram, Twitter and TikTok. The ads are delivered to banner placements in a traditional manner, and can support your programmatic campaign goals, including direct response, awareness and prospecting. This will suit the many brands that have leaned towards a social-first content marketing policy, as in effect they have a library of advertising assets already in existence, ready to go.
What are the benefits of social display?
The obvious, immediate benefit of the social display ad is that it gives you the best of both worlds: the huge, engaged audience of a social media giant combined with the ability to maintain consistent automated programmatic campaign goals of the more traditional advertising formats. With our list of templates, you'll quickly achieve the look and feel you want for your campaign, and tracking is also simple to set up.
As well as being visually engaging, the adverts also offer fantastic interactivity, which combats 'banner blindness' and offers the audience something both familiar and new in terms of experience. The format allows brands to unify their data sets and saves money in terms of asset creation – the visuals are simply carried over from your selected social media post. This allows you to maximise spend while maintaining scale and reach.
And the good news doesn't stop there, because social display ads perform better than traditional banner ads across many metrics, and studies have shown a five-times improvement in brand lift and consideration.
As well as being visually engaging, the format also offer fantastic interactivity, which combats 'banner blindness' and offers the audience something both familiar and new in terms of experience.
What are some ideal use cases?
There is no reason why any industry or category cannot benefit hugely from the engagement metrics social display ads can achieve. Popular segments have included footwear, retail, entertainment, consumer technology and even politics. Fashion brand Calzedonia managed a 165% increase in CTR with social display compared to regular display banner ads, and games studio Neatherrealm achieved a 23% CPC increase over normal ads when marketing its game Injustice 2: Legendary Edition.
As we have already seen, social display is ideal for any brand that buys its ad inventory programmatically, and has a great social media impact. The two work hand in hand to produce truly 'thumb-stopping' creative that boosts your brand awareness and pushes your creative assets and social KPIs. Social display is also fantastic for unifying both your data and multi-channel media spend.
At Adnami we have always said that creativity is the main driver for an ads success, and our new high impact social banner ads are designed to put control back into the hands of companies and their creatives, giving our clients the best chance of building long term brand success and the results they want from their campaigns.
Want to learn more about this new format? Check out this page or reach out directly to your local representative or request a demo/meeting to learn more.