Simplifying programmatic high impact buying with unified ad units
Adnami High Impact is primarily bought through programmatic channels but how do advertisers deal with the difference in ad unit sizes between publishers?
This dynamic causes challenges for both buyers and sellers. For buyers, operating with various ad unit sizes requires them to work with multiple versions of the same creative, leading to operational inefficiencies. On the seller side, there have been challenges in both the limited ability to control the pricing of inventory and a lack of reporting capabilities in their ad servers.
In collaboration with agencies and publishers, we've launched a project to solve these challenges by unifying ad units across all Adnami supply partners in Denmark. Our ultimate goal is to implement this initiative across all markets in order to simplify and scale the programmatic transaction of high impact inventory for buyers and sellers alike.
What is it?
Instead of using standard ad unit sizes for our formats (300x250, 930x180, etc), we are now introducing sizes that are Adnami-unique. What exactly does this mean? With these new Adnami-unique sizes you will only need one size per format per device.

It is important to note that this is only changing the buying process, not the visual outlook or safe-zones of Adnami formats.

The new sizes recommended for buying Adnami formats are: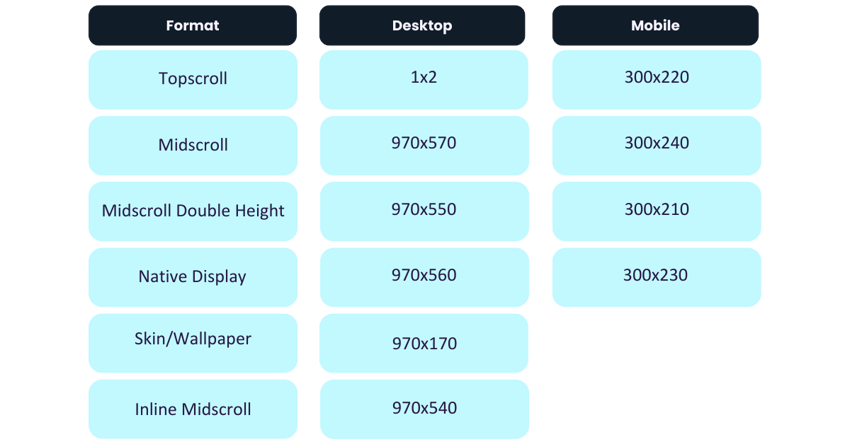 Pros of working with unified ad unit sizes
For agencies
Buying Adnami formats across publishers will become easier because only one ad unit size per format will be needed. This means there won't be a need for buyers to create two or three different creatives. It will also prevent buyers from unintentionally buying a format on a website not intending to sell that specific format – in this case the website won't have the Adnami size implemented.
For publishers
Extracting reporting data specifically on Adnami formats will be easier. It will also be simpler to set floor prices that ensure unintentional buying on standard format sizes intended for high impact. For example, purchasing a Midscroll on a 320x320 placement in the open market instead of buying on a Midscroll deal. This will enable publishers to better control their high impact inventory.
What do you need to do?
For publishers
Add the new recommended sizes in ad placements and update existing programmatic deals to match the new sizes.

Ensure that "old" sizes are in all deals throughout Q3 2023 or until the new unified sizes are fully implemented. This is especially important for those using always on creatives.

Reach out to teams using SSP's regarding the new ad unit sizes for placements in pre-bid.
For buyers
Deals will remain the same because the placements on the publisher's side will not change, only sizes within the placements will change.

Creative assets should be uploaded with the above-mentioned sizes as soon as publisher deals have been updated to reflect new unified sizes. It is recommended to upload both the old and new sizes initially until all publishers have migrated.

Any buyers working with "always on" creatives, should make sure to update creatives to the new unified sizes before end of Q3 2023.

Teams using SSP's should communicate with publishers regarding the new ad unit sizes for placements in pre-bid.

The transition from "old" sizes to the new Adnami-unique sizes will take place progressively throughout Q3, allowing time for buyers and sellers to make the necessary changes.

Adnami will ensure default sizes in our web app https://app.adnami.io are changed to match the above-mentioned sizes one-to-one.


---
If you have any questions about this initiative, don't hesitate to reach out to your Adnami contact or directly to our support team via support@adnami.io.