Creativity first: Adnami's guide to high impact advertising
High impact advertising is on the cusp of making it big. The digital advertising market is increasingly competitive, and while knowing your audience, targeting them with the right message, at the right place and time, is as important as ever, connecting and engaging with consumers to punch through the noise and achieve strong performance metrics and brand recall means working harder than ever for consumer attention.
In contrast, the data suggests the standard targeted banner ad has had its day. Estimates suggest consumers are exposed to up to 10,000 marketing messages every day, yet a Forrester Report says that over 60% of people can't remember the last digital ad they saw. In this wash of bland, unengaging digital advertising, the traditional banner ad is failing to have impact, and struggling to keep its head above the metaphorical water.
And this is why high impact is on the up. With its emphasis on engaging creative over data targeting, recent studies have witnessed high impact ads perform as much as 45 times better than standard display ads (on average 10x). So, let's take a closer look at what sets high impact apart from the competition, what it offers your business and, remind ourselves exactly what it actually is…

What is high impact advertising?
High impact is a form of scalable, non-standard digital advertising that harnesses the power of rich media in order to stand out from the crowd. The adverts come in many shapes and sizes, including skins, scrollers, video expanders and social display ads. They are primarily designed to grab the attention of the consumer, and do this with advanced technology to provide a canvas on which to showcase exciting and engaging advertising creative. The aim is to stop the consumer in their tracks, rather than adopt the 'hit-and-hope' tactics of standard, targeted banner ads.
By 2025 it is predicted that 72% of consumers will consume data exclusively on mobile, and we have also learned that if a consumer engages with an ad through touch, spontaneous recall increases to 28%. High impact ad formats are device agnostic, so will work flawlessly on any mobile device (but also desktop), and Adnami was one of the first companies to produce high impact templates that work seamlessly across all platforms and services.
This makes it easier for advertisers and publishers to scale both their offering and operating efficiencies. Adnami, one of several very different high impact advertising enablers, plugs into all major DPSs, meaning that ad space can be purchased programmatically with all the benefits that brings, including scalability, transparency and control. Adnami high impact ads are then delivered programmatically on certified publisher inventory, to ensure that they render perfectly, adapt to the website(s), and the window(s) they render on and don't break any websites they are served on. We have worked hard to design, and continue to optimise, our formats to achieve a low Google Cumulative Layout Shift score.
How high impact differs from standard advertising
High impact encourages a "creative-first" approach to advertising. We're all sick of hearing about the imminent demise of the cookie, but ultimately this protracted death is forcing advertisers to engage with consumers via brilliant creative rather than data targeting; something that high impact has been focused on for a number of years. This approach offers a philosophical antithesis to the data targeting that banner ads use.
High impact ad formats provide templates for advertisers to fill with rich creative that can include beautiful images, powerful videos, brand colours, CTAs or any other element to engage and interact with the consumer and make a memorable campaign. Ad engagement results in higher dwell time, which engenders attention (as we shall see shortly). Content will always be king, and the fact that creative contributes 62% of sales generated by advertising (with only 9% by targeting) tells you why advertisers are beginning to recognise the power high impact has, and the opportunity it represents for a brand to emotionally connect with its customers.
What can high impact do for you?
The opportunities this kind of advertising offers your brand are significant. You can cast off the creative shackles of traditional advertisements and interact with your consumers via fun, emotional, colourful, humancentric campaigns. And the results speak for themselves, with high impact ads 78% more likely to encourage a consumer to discover more about your brand, and the content considered 40% more likeable than traditional display.
High impact ads are 78% more likely to encourage a consumer to discover more about your brand, and the content considered 40% more likeable than traditional display.
As the industry begins to consider how to more accurately measure engagement, we are seeing brands and agencies move away from metrics such as the click and viewability, towards high impact and how well it performs. Attention can report on a broad number of factors, including attention per 1,000 impressions, average visual engagement and total attention (in hours) for a whole campaign.
The good news is that high impact performs ten times better than standard banner ads for attention and, according to measurement research specialists, Lumen. Adnami's Topscroll format outperforms the majority of the industry in terms of attentive seconds per 1,000 impressions. In contrast, during Adnami research, a standard display ad with the highest viewability proved the worst at driving user attention. As a small aside, the use of such detailed, deep metrics will protect you (and your brand) from cyber-criminals looking to game the likes of CTR.
Attention across media channels (attentive seconds per 1000 impressions)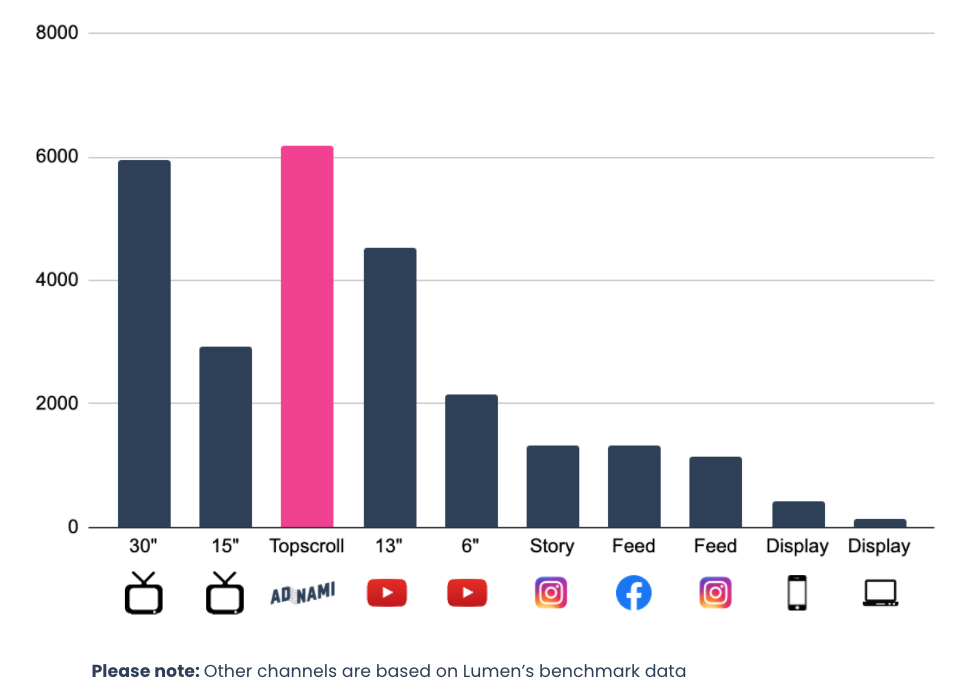 (Diagram is a result of a recent study from Lumen.)
Finally, because publishers and advertisers can use our technology to transact the ad space programmatically on a direct basis, Adnami even gives agencies access to the increasingly rare commodity: first-party data. It also means that more of the media spend stays within the ecosystem as you cut out a lot of middlemen taking a slice of the pie. This allows agencies to buy more impressions for their money, and publishers get a higher yield per page.
At Adnami, it is clear there is a changing of the guard as high impact formats begin to turbocharge advertising campaigns in terms of performance and value for money. The effectiveness, measured by attention, and the control now on offer blow olderformats out of the water. With Lumen reporting that only 20% of viewable ads are registered by consumers, the opportunity to engage with customers via rich media and exciting storytelling holds exciting opportunities for the future for any brand.
How to get started
To learn more about the possibilities high impact advertising can offer your business, don't be afraid to reach out. A short call is all we need to learn more about your requirements, and will give us the opportunity to present the different ad formats to help get you up and running.
Fill in this form to continue, or find inspiration at our Ad Experience Centre