Case Study
With Xaxis high impact setup Jula generated higher attention and recall using Adnami's high impact formats and reduced cost x impacted user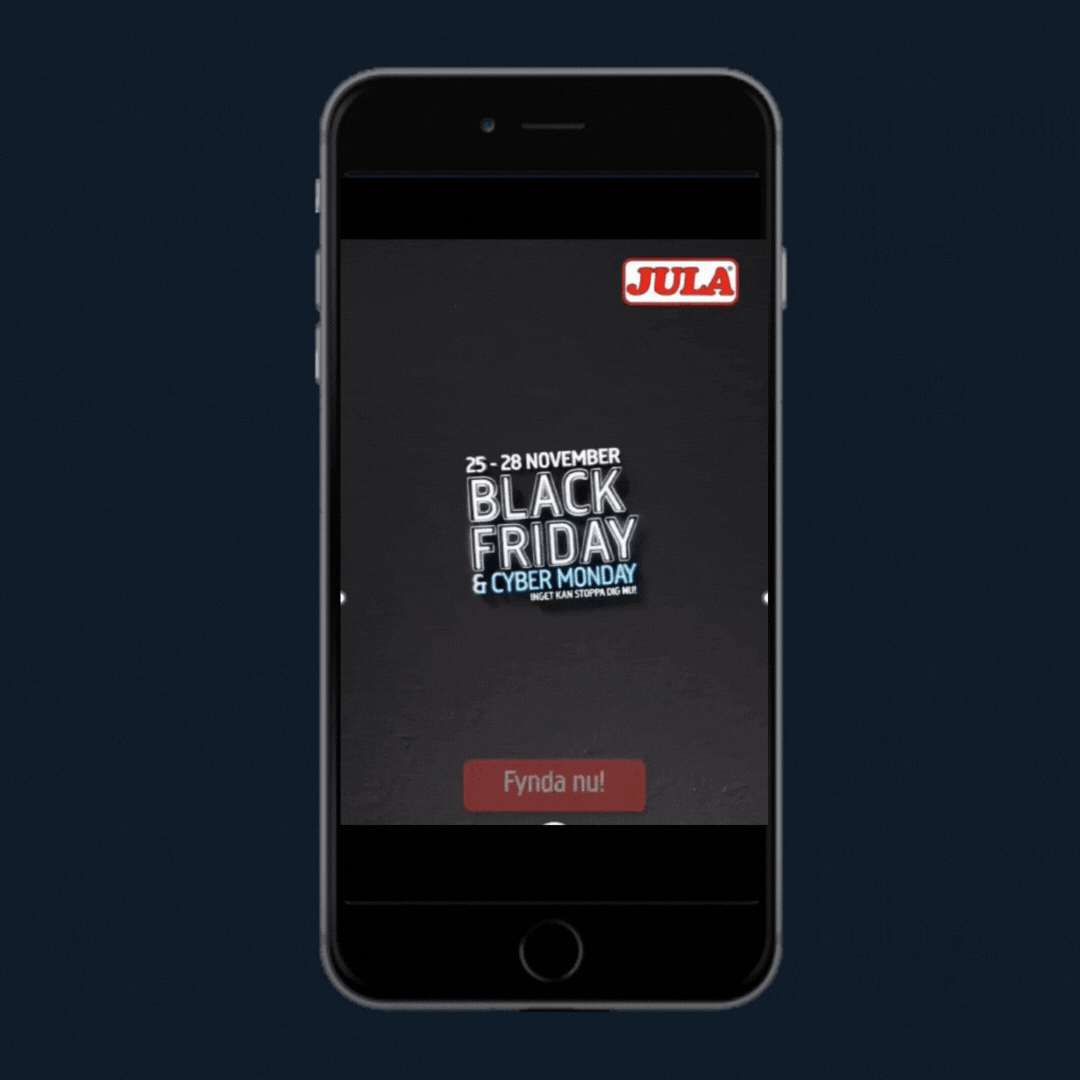 5.6x more attention
With Adnami Mobile Topscroll compared to 320x320 (not optimised on attention) and 3.6x higher than Facebook in-feed.
2.3x higher ad recall
With Adnami Mobile Topscroll versus Facebook in-feed and 1.9x more than 320x320.
+3x longer view-time
On average, the Topscroll was viewed 4x and 3x longer than the 320x320 and Facebook in-feed respectively.
67%
Reduced cost per impacted user versus Facebook in-feed.


Jula
jula.se

>





Industry:

Retail



Country:

Sweden





Formats:

Adnami Topscroll, 320x320, Facebook in-feed



Device:

Mobile
Study by:

Lumen Research, Adnami, Xaxis and Mindshare Sweden
Background
Jula's mission is to give every person the power and opportunity to fix things themselves. Regardless of whether you are a do-it-yourselfer or a professional, they want to motivate you to simplify your everyday life and create an active and fun life for yourself. Since 1979, Jula has grown with great progress and has developed into an international group with thousands of employees around the world in addition to having Northern Europe's largest central warehouse.
Regardless if you are a well established company or a startup the need for branding and advertising is equally as vital. Mindshare and Xaxis have been a client of Adnami since 2020. To understand more about the drivers of attention, and how it differs by advertising formats, Xaxis agreed to have Jula participate in a larger research study between Lumen Research and Adnami. This article will present findings related to formats and the creative.
Research overview
Responder recruitment and methodology
Lumen Research uses eye-tracking to help brands and publishers measure and buy based on attention. This study consisted of 300 respondents living in Sweden all of which were 18+. Respondents accessed Lumen software via their computers which then turned their mobile devices into an eye-tracking camera.
For this study Lumen created a digital desktop testing environment and a Facebook feed environment. One group of respondents were exposed to three articles containing Jula ads as either an Adnami Topscroll or 320x320 format (along with some clutter ads). The other group were exposed to a Jula ad within a Facebook feed. Each group then answered a series of questions related to the ad exposure they experienced. Finally all respondents were shown the Jula ad in isolation and asked additional questions relating to ad perception and intent.
In conjunction with Lumen's eye-tracking lift study, attention was also measured in real-time for each display format, including Adnami Topscroll. This validation was conducted by Mindshare Sweden and Xaxis for their client Jula in a programmatic campaign that ran across several publishers. They sought to measure attention with the aim of seeing the real cost and impact of an impression. Xaxis Sweden was then able to optimise the campaign based on attention.
Formats tested in the study
For this study, Lumen Research tested three digital formats; an Adnami Topscroll, a 320x320 format and Facebook in-feed. The same creative was used for each format which allowed Lumen to remove the creative as a confounding variable in the analysis, putting the focus back onto the formats themselves as driver of attention.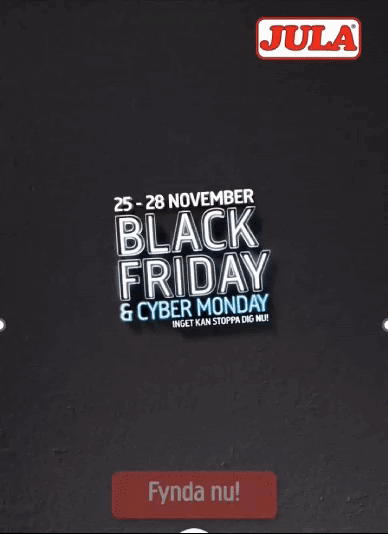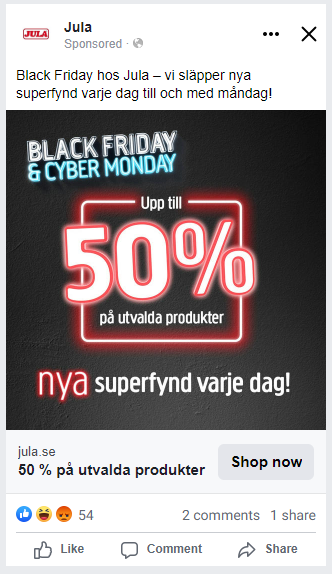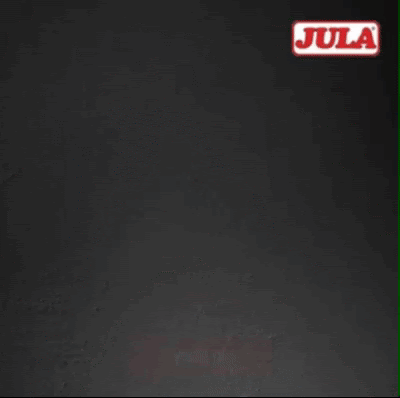 Testing the ads in context
Below is an example of in-context exposure from both the group which saw three webpage articles with a mix of different ads and the group viewing Facebook . The webpages were fully scrollable content; clickable and with un-mutable ads. They were not recordings of webpages.
Adnami's Topscroll was the standout when it came to capturing attention
Lumen's eye-tracking data predicted that Jula's Topscroll would generate 5.6x more attention compared to the 320x320 (not optimised on attention) and 3.6x more than Facebook in-feed.
Adnami's Topscroll generated over double the recall
Greater attention is linked to higher recall - in both spontaneous and prompted recall Adnami Topscroll generated at minimum 1.9x higher recall than the 320x320 and Facebook in-feed.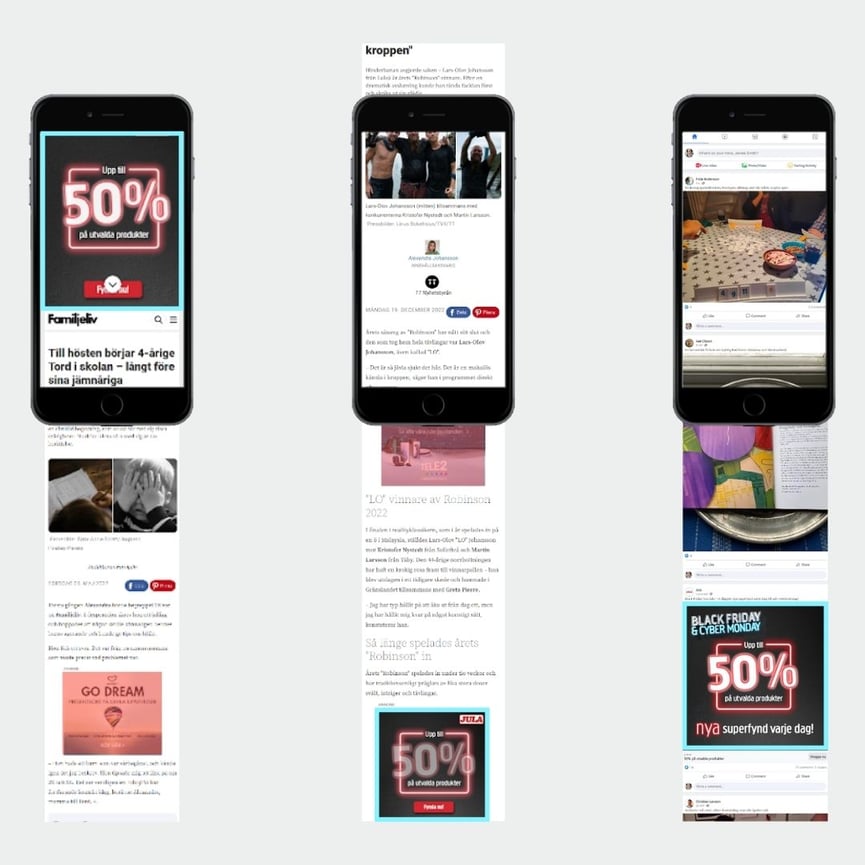 Results
The Topscroll was viewed significantly longer
On average, once the formats were viewed, participants looked at the Topscroll significantly longer than the standard display formats. Once viewed, the Adnami Topscroll format was viewed for 4.1 seconds on average: which is 2.2x longer than the 320x480 format, and 2.9x longer than the MPU. Of the impressions served (by MRC standards) for both the Topscroll and Facebook in-feed, 1.2x more people viewed the Topscroll. Though the Topscroll was a ~2s looped video it kept people's attention with the average group viewing the Topscroll for over x2 its length. The Topscroll was also viewed on average for 4.3s which was 2.9x higher than Facebook in-feed and 3.9x higher than the 320x320.

Not only was the TopScroll viewed more on average, it was also viewed more at every second. At 5s view time the Topscroll was viewed 26x more than the 320x320 and 12x more than the Facebook in-feed ad.

In attention the Topscroll was the stand out
Lumen predicted that the Adnami Topscroll would generate 4,193s of "eyes on" attention for every '000 impressions served. That is an attention score of 5.6x and 3.6x greater than the 320x320 and Facebook in-feed formats respectively.
Attentive seconds per '000 impressions compared to other media channels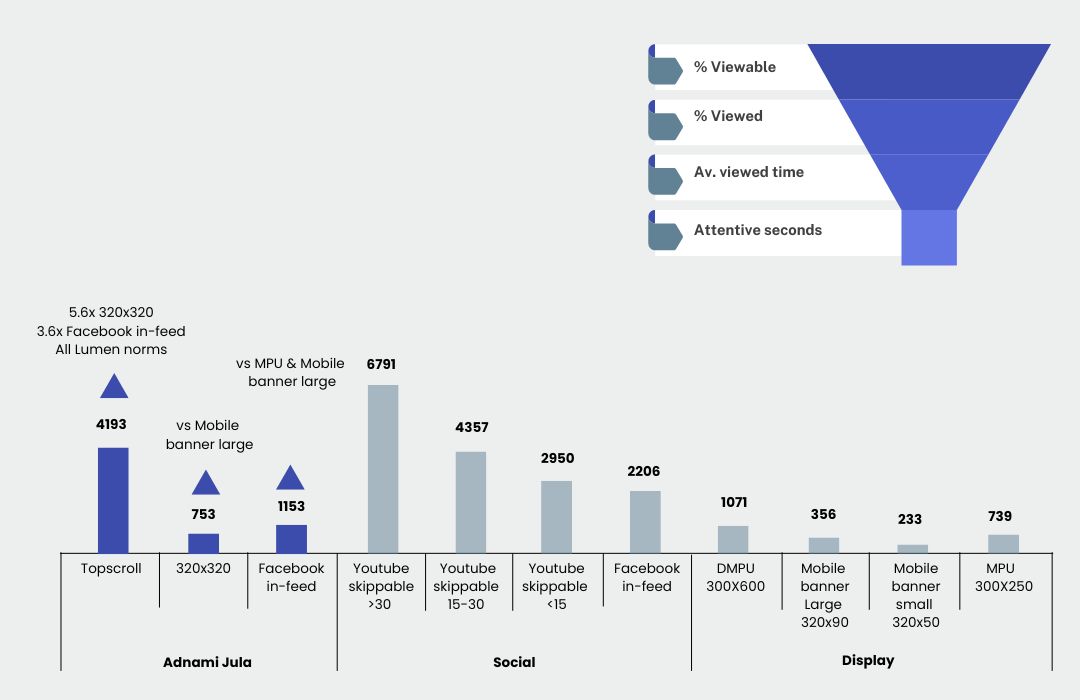 The Topscroll generated over double the recall
Respondents were significantly more likely to recall seeing a Jula ad after exposure to the Adnami Topscroll format on both a spontaneous and aided level. Spontaneous recall for the Topscroll was 1.9x higher than the 320x320 and 2.3x higher than Facebook in-feed. When comparing aided recall the Topscroll was 2x greater and 2.1x greater than the 320x320 and Facebook in-feed formats respectively.
Constantly evaluating the media mix to secure and maximize users' attention is becoming more and more important. We see Adnami as an important partner when it comes to high impact formats as their ad formats help us increase awareness and communicate with our target group more efficiently.

Maria Steiring
Digital Strategist Mindshare Sweden
Get similar results
Our formats have helped 1000+ brands to improve their attention and ad recall results.
Get in touch to learn more about how we could support your business needs.
Join world leading advertisers and publishers using Adnami