Humanads partners with Adnami for high impact and video advertising
Copenhagen, Denmark, June 7th 2023: It's been a busy start to the summer for adtech vendor, Adnami, which today announces the first campaign with partner humanads is now live in Greece. Dove and Initiative are featured in the debut campaign for the new programmatic advertising network, humanads, which seeks to redefine the value and acceptance of online advertising for brands and people.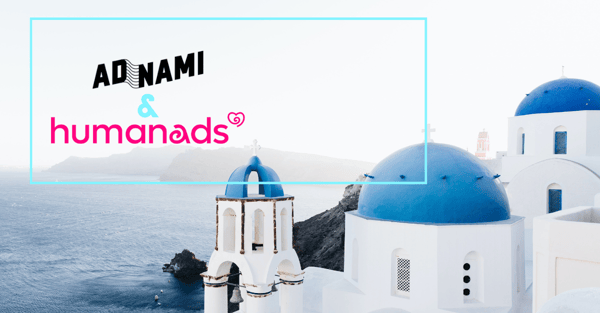 Irini Sacha, Founder & CEO at Acrossmedia241 and humanads, says: "At Acrossmedia241, we develop & provide digital advertising solutions that people love. We care for people, for their experiences, their opinions and their feelings. We strongly believe in the need for comprehensive change, in order to create a sustainable future for advertising. We are pleased to be working with Adnami on humanads, for such an inspiring project. Adnami offers to humanads, ad formats that are beloved by people. Ad formats that are non-intrusive and very impactful, allowing us to maximize ROI for brands and make digital advertising stronger. But what sets humanads apart, is our focus on cultivating compassion and engaging people. With humanads we create a positive social impact. We infuse advertising with fresh perspectives and revitalising energy!"
In the first-ever humanads campaign, Dove takes center stage exclusively. Leveraging humanads through Adnami's premium and non-intrusive high impact formats, Dove reaches audiences via distinguished Greek Digital Media Groups, such as Alter Ego and DPG Digital Media Group. Adnami's Topscroll format, execution strategy and approach ensures maximum visibility and impact for Dove, enabling them to reach the right audience in a captivating and attention-grabbing manner.
Mie Borg, Adnami's Activation Director, adds: "We are excited to partner with humanads. They have a compelling vision and a great team, and we are pleased they have chosen Adnami as their partner for video and high impact advertising."
---
10% of the proceeds from the implementation and management of the Dove-humanads campaign (as well as any humanads campaign) will be allocated by Acrossmedia241 to selected NGOs in Greece, as announced on www.thehumanads.com. Users exposed to the Dove-humanads ads can choose the NGO they wish to support, contributing their time and attention to this specific advertisement. The time and attention that people dedicate to humanads ads are transformed into social solidarity and compassion by Acrossmedia24.
---
For more information: hello@adnami.io
Website: www.adnami.io
About Adnami:
Adnami's high impact advertising platform delivers astonishing ad experiences for consumers and accelerated returns for publishers and brands. Adnami's templated and platform-agnostic approach to high impact advertising, provides a scalable and automated solution to run attention-grabbing and impactful advertising campaigns. The company launched in 2017, and work today with a diverse range of clients across Europe, such as Heineken, BMW, American Express, Disney, Samsung and Red Bull.
About humanads:
Humanads is an innovative ad network that integrates premium and non-intrusive ad formats, advanced cookieless targeting and both brand-safe and uncluttered placements socially and responsibly.