Welcome! This guide will give you an introduction to Adnami.
Familiarise yourself with our formats
We have many formats available for our customers, and we are constantly developing and adding more. Currently, we offer high impact formats such as skins, midscrolls and topscrolls, but we also offer formats for standard display, such as social display formats. Use our ready-made templates or reuse your old creatives in our self-service platform.
Set up your first campaign
The guide below is a generic one, some formats have additional settings. We recommend that you use the guides here for more details and steps.
Step 1: Create a campaign
Log into Adnami Suite.
Click Create Campaign to start.
Choose your preferred format (if it's hard to know which one to choose, talk to your sales representative, support@adnami.io or check our ad experience centre for inspiration).
Populate the basic information (organization, advertiser, campaign name and country)
Press save.
Step 2: Campaign settings
Insert the campaign Click URL (the link to where the ad should be directed). If UTM-tracking is needed and provided, this can be added here too.
Height in pixels will be auto-populated.
Not on all formats: Enable or disable interaction- if using sound or if the ad has a CTA, this should be enabled.
Press save.
Step 3: Third party tags
Add all third party tags associated with this campaign and ad.
Some macros are not accepted, common ones are below. If you are unsure, please reach out to support@adnami.io.
Press save.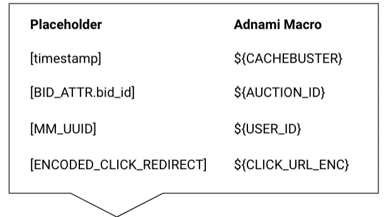 Step 4: Add your assets
Add all assets associated with this campaign. Assets can only be added one at a time. Also note that there are separate sections for images and video (and that only PNG and JPEG images are accepted).
Press save to go live (lightning).
Click preview. Preview will be showing in the top banner.
Congrats! Your creative are now done! Get your tags and you're ready!
Additional resources