This article will demonstrate how to save time by delivering the correct files and naming formats making it easy for our AdOps team to service you.
To minimize time spent sending e-mails back and forth explaining how material should be wrapped in the Adnami Suite when using Adnami's help we recommend the following steps:
Step 1 - Ensure naming in the zip-folder matches which creatives/devices we should use for which formats. A good guideline would be to use the following syntax:
[Campaign name - Creative - Format - Device]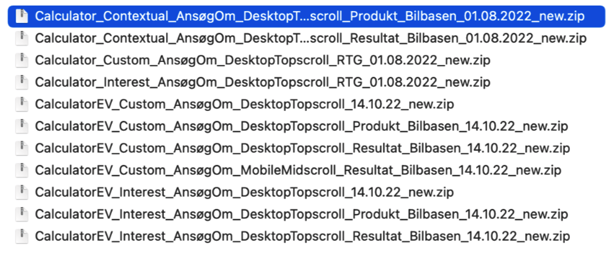 This way we make sure that our Adops knows exactly which format the creative should be wrapped as.
Step 2 - When delivering trackers (impression-/click-trackers) for the material, please ensure the naming is matching the creative.
For instance change the "placement name" in the Excel file to match the naming above (This is a CM Excel-sheet but the same logic applies to Xandr, Adform and other Ad-servers):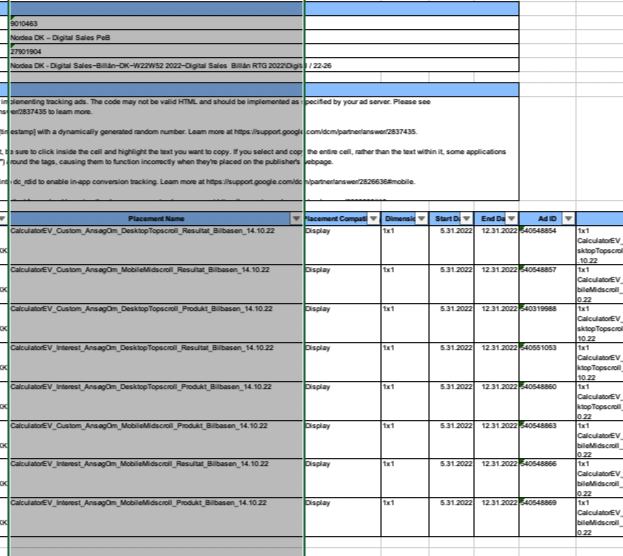 Generally speaking, the more information you're able to share regarding the materiale and tracking, the better. For instance:
Does the creative materiale include sound (video)?
Does the creative materiale include "interaction"?
Should the same materiale be used for two formats, such as Midscroll + Topscroll (this might be the case in relation to HTML depending on how it has been designed)?
How many tags are you expecting to receive in total (for instance, there might be 3 zip files but you're expecting 6 tags)?
Should the same tracking be used for several formats (in some cases 1 click + impression tracker is used for several tags)?
Remember to include PO/order number in your request
Following these steps will ensure a more lean process for all parties.
If you have any further questions please contact support@adnami.io.